At TempIn, we take a holistic approach to seasonal staffing, fostering strong connections between local businesses, tourism associations, and provincial & local governments. By embracing the unique challenges of seasonality, we empower communities to adapt their staffing needs seamlessly, ensuring a thriving ecosystem that promotes growth and resilience in the face of fluctuating demands.







Discover TempIn's powerful features: intuitive shift planning, rich candidate profiles, and our exclusive "Bench" system, designed to streamline your staffing process and elevate your business to new heights.


Rich Candidate Profiles
Dive deeper into candidate backgrounds with video resumes, references and detailed reviews.

Build Your Bench of Talent
Pre-select your preferred workers and organize them in teams with your preferred order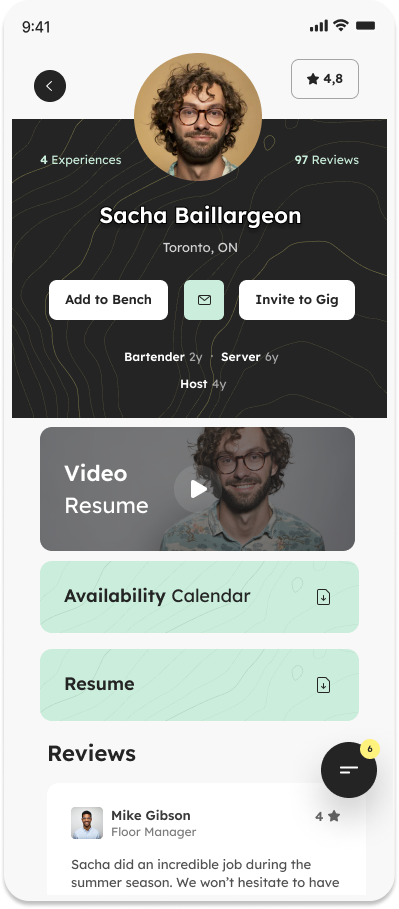 Seamless Scheduling Capability
Effortlessly map your seasonal staffing by booking staff based on their availability, eliminating time-consuming back-and-forth emails.

Unbeatable Pricing Model
Enjoy a free trial followed by a low monthly fee, without any extra hourly charges or costs for converting gig workers to full-time employees
Personalized Regional Approach
TempIn is dedicated to fostering synergistic relationships between local talent pools and employers by collaborating with government entities. Our mission is to create a thriving ecosystem that benefits communities and businesses alike.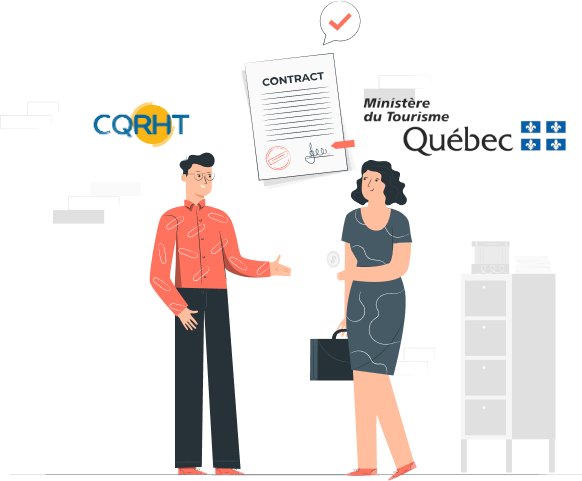 Trusted by the Ministry of Tourism
We are proud to be partners with CQRHT (Labor Committee for Tourism in Quebec) to further enhance our collaborative efforts with government entities. This partnership strengthens our commitment to fostering synergistic relationships between local talent pools and employers through a province-wide talent-sharing program.

Align our efforts with regional workforce development strategies

Drive innovation in staffing solutions tailored to the unique needs of the tourism industry in Quebec

Promote sustainable employment opportunities within the sector

Create synergy between seasonal businesses in tourism
FLEXIBILITY, VARIETY, AND CONTINUITY
Empowering the Modern Workforce
TempIn understands that the younger generation craves modern solutions, seeking variety, flexibility, and year-round employment opportunities. Our platform is designed to cater to these evolving preferences, enabling us to attract top talent more effectively than traditional direct employers. From flexible scheduling to year-round work opportunities through seamless technology.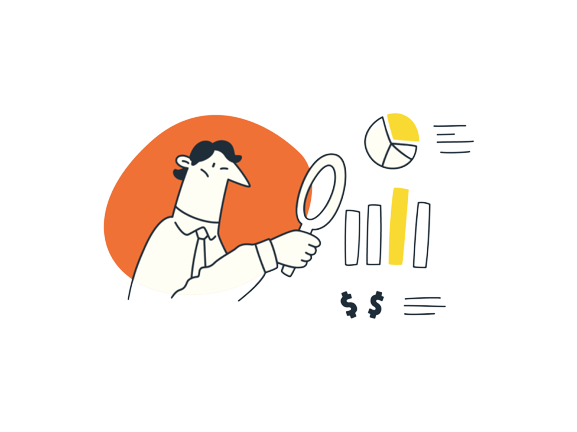 Limited Offer for Employers
Create your employer profile now and get 2 weeks for free. No credit card needed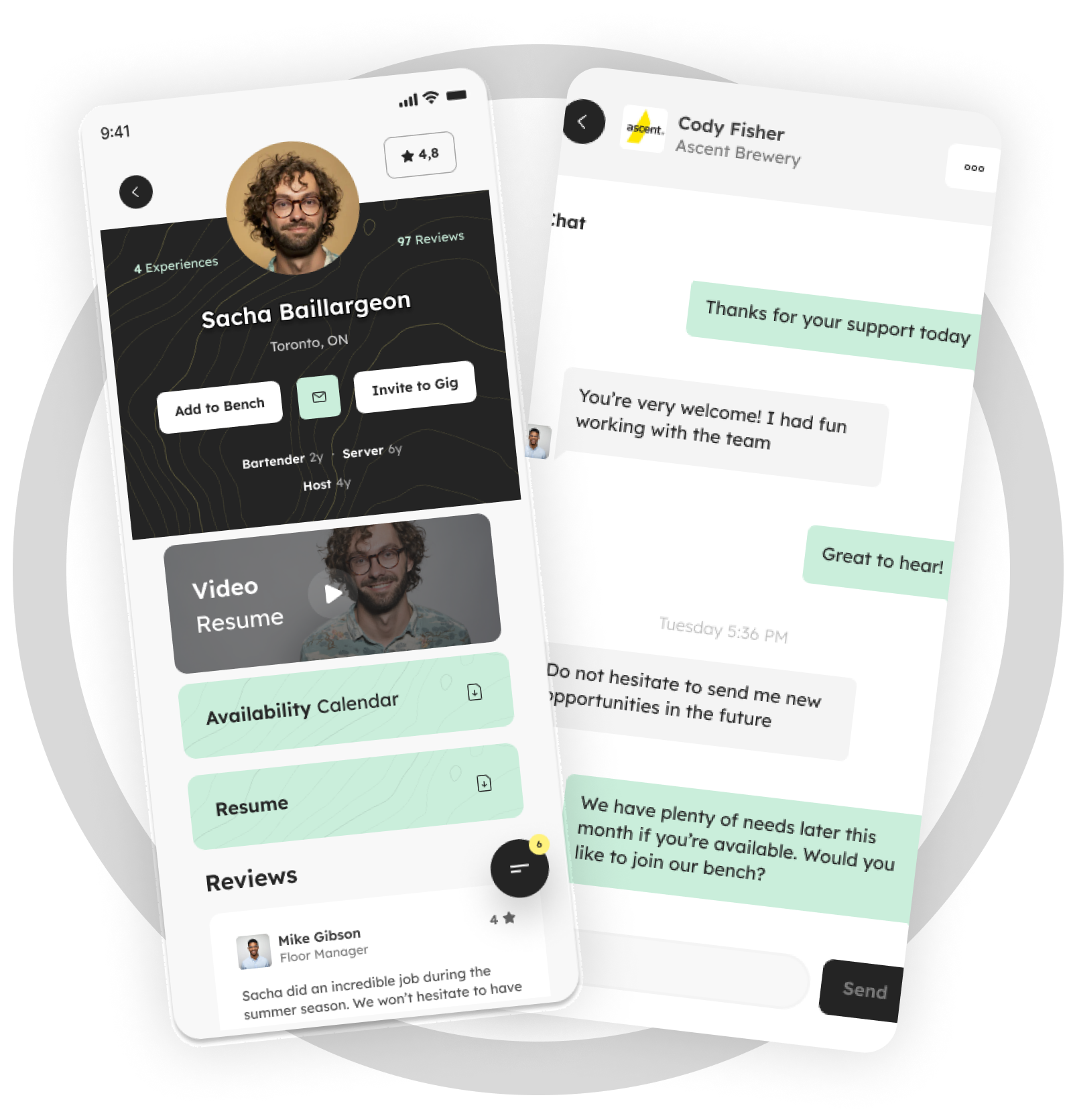 Frequently Asked Questions
What industries does TempIn cater to?
TempIn specializes in serving industries where seasonality and fluctuating staffing needs are crucial. We primarily focus on sectors such as hospitality, tourism, retail, events and conferences, food and beverage, entertainment, leisure and recreation. Our platform seamlessly connects workers and employers within these industries, offering flexible and efficient staffing solutions tailored to meet their ever-changing requirements and ensuring optimal workforce adaptability.
What is TempIn's pricing model, and are there any additional fees?
TempIn's region-specific pricing ensures unbeatable affordability in staffing solutions. By leveraging local partnerships, associations and government subsidies, we deliver exceptional value and services to our clients. Experience the perfect blend of quality and cost-effectiveness with TempIn.
At TempIn, we have minimum requirement criteria in place to ensure that our talent pool meets high standards of quality and professionalism. While we don't conduct interviews with workers ourselves, we have established a set of minimum requirements that workers must meet to be included in our network. Our community of workers is further vetted over time through reviews and feedback from both employers and workers, which helps maintain high standards and ensures that only top performers are retained in the network. With TempIn, you can be confident that you're getting access to a thoroughly vetted talent pool that meets your business needs.
What contractual relationship does TempIn have with users?
At TempIn, we facilitate a direct contractual relationship between employers and employees, allowing them to engage with each other directly and negotiate the terms of their engagement. We provide a platform that offers the tools and infrastructure to help them meet and manage their staffing operations throughout the season. Our platform streamlines the recruitment process, providing an efficient and seamless experience for both employers and employees. Our focus is on delivering high-quality staffing solutions that cater to the unique needs of each business, providing the tools and resources needed to manage their workforce efficiently. With TempIn, you can enjoy a direct contractual relationship with your workers and have the support of a powerful staffing platform.
Where does TempIn find workers?
TempIn's modern approach and emphasis on flexibility enable us to attract the younger generation of workers more effectively than traditional direct employers. Our platform empowers workers to choose their preferred hours and shifts, promoting a healthy work-life balance that resonates with the evolving preferences of the younger workforce. By offering diverse work options across multiple industries, TempIn creates a larger impact than individual employers, providing a centralized solution that benefits both talent and businesses alike. Experience the power of a modern, flexible, and innovative staffing solution with TempIn.
Can I use TempIn as a staff scheduling tool?
Although our platform was designed with staffing in mind, you can use TempIn's calendar features to create and manage your staff's schedules, taking into account their availability and preferred hours eliminating the need for back-and-forth emailing and streamlining the scheduling process. Our platform also offers real-time notifications to keep you updated on any changes to your schedule, ensuring that you're always on top of your staffing needs.
Stay up to date with the latest trends in the seasonal staffing space
Talent is at the center of everything we do!